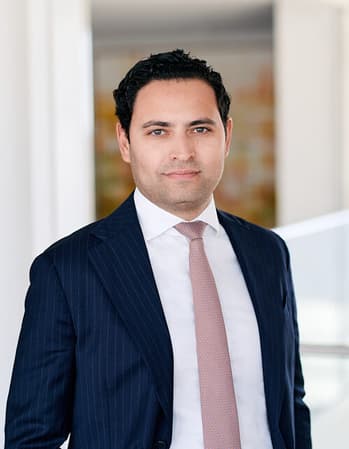 Ali is currently on leave of absence.
Ali assists finance institutions, investors/managers, bond trustees and borrowers on a regular basis in connection with financing transaction and restructuring. He is frequently involved in and has extensive experience with asset financing, such as conventional vessels ships, offshore vessels, rigs and real estate. Ali also assists clients on a regular basis in connection with financing of other offshore activities, acquisitions, green financing and other projects and assets.
His work extends to structuring loan transactions, drafting and negotiating contracts, hereunder loan, bond and security documentation, for bilateral as well as syndicated financing (including export financing). A significant portion of the transactions in which Ali is involved in have an international/cross border element. Ali has also experience with Corporate Law, M&A and Contract Law.
Prior to joining Schjødt in 2017, Ali worked as shipbroker for R.S. Platou (now Clarkson Platou) in Singapore and as an associate in Kluge's Energy group. He has also acted as litigator on behalf of the Attorney General's Office.
Education
2013

Master of Laws, University of Bergen

2013

LL.M Maritime Law, National University of Singapore