Olav Kolstad
Partner, Dr. juris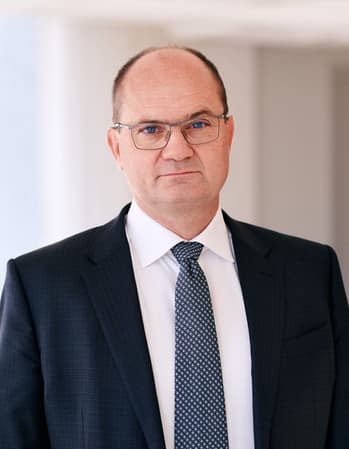 Olav joined Schjødt as a Partner 2012 and his practice focuses on competition law, EU/EEA law and Oil & Gas regulation.

​Olav holds an MA in jurisprudence and a Ph.D. in law from the University of Oslo, his doctoral thesis was on competition law and economics and during this period he was research fellow at the Max Planck Institute for Intellectual Property and Competition Law in Munich. He held a professorship at the University of Oslo until 2011 and before joining Schjødt he worked both in industry, within the legal department of Norsk Hydro (1998-2001), and in private practice, as a Partner in Kvale (2009-2012).

​Olav is a co-editor and author of Norsk Konkurranserett Bind 1 og 2, the leading textbook on Norwegian Competition law, and has published a broad array of articles within the field of competition law and EU/EEA law. He has a wealth of experience in advising clients on the antitrust aspects of their commercial behavior and structuring agreements in compliance with competition law imperatives. Beyond the realm of pure competition issues, Olav also possess a significant understanding of the Oil & Gas industry's regulatory framework; to this end he assists clients operating on the Norwegian continental shelf in issues covering the full scope of petroleum and gas extraction and distribution. Moreover, as a result of the amalgamation of his practice areas with his specific industry knowledge, Olav is uniquely adept in dealing with the competition aspects of the often intricate Oil & Gas production and services markets.

​Olav has gained a deep understanding of the workings of the main regulatory instances that oversea the enforcement of competition law and has represented clients in proceedings before the Norwegian Competition Authority, the EFTA Surveillance Authority and the European Commission. Within the context of transactions or investigations spanning several jurisdictions, Olav has also worked with local counsel in several countries - both in Europe and further afield - in resolving issues before the competent national competition and regulatory authorities.

​Olav is currently a member of the Norwegian Law Reform Commission for the review of unfair commercial practices within the grocery retailing sector.

​In light of his singular combination of academia and industry experience, as well as his ability to handle difficult and convoluted cases, Olav is regularly regarded by his peers as one of the leading practitioners of competition and EU/EEA law in Norway and ranks highly in both the Legal 500 and Chambers rankings.
Rankings
2021

Leading individual and Recommended - Legal 500

2020

Leading Individual and Recommended - Legal 500

2020

Leading Individual - Chambers and Partners Europe
Education
1999

, Dr. juris University of Oslo

1992

Cand. jur., University of Oslo
Publications
2005

The Price regulation Law (Pristiltaksloven), Norsk Lovkommentar 2326

2005

Competition law as a means to enhance the "interests of consumers" (Konkurranseloven som virkemiddel til å fremme "forbrukernes interesser), Tidsskrift for Rettsvitenskap 1

2004

EEA law assessment of the system of reversion [for public concessions] (EØS-rettslig vurdering av hjemfallinstituttet), Norwegian Public Inquiry 26, pp. 209-253

2004

EEA Law (EØS-rett), 2nd edn, Universitets forlaget (F Sejerstad, O Kolstad, F Arnesen, OA Rognstad, S Foyn (eds)

2003

Assessing Network Effects of Exclusive Purchasing Agreements under Article 53(1) EEA, 2 European Law Reporter 52, Olav Kolstad and Helge Stemshaug